New Chapter Every Man 120 Tablets *New formula*
If you're looking for the right multivitamin for men, it's helpful to know there are differences between raw, USP multivitamins, gummy vitamins, and whole-food fermented multivitamins like New Chapter's Every Man. Our whole-food fermented men's multivitamin is made with quality ingredients you can trust—way more than just isolated nutrients, and free from the animal gelatin and sweeteners of gummies. Our unique multivitamin is fermented with probiotics and expertly formulated to deliver bone and heart support with Vitamin D3, energy support with B Vitamins including Biotin, immune support, and stress support for men's daily wellness.* New Chapter multivitamins are gentle enough to take anytime—even on an empty stomach.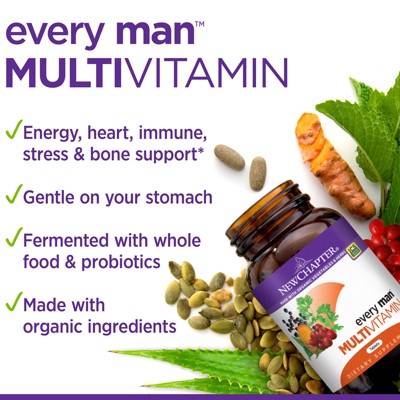 MULTIVITAMIN FOR MEN: Complete men's multivitamin for well-rounded nutrition, uniquely fermented with beneficial probiotics and whole foods - NO SUGAR ADDED
OVERALL WELLNESS & VITALITY: Delivers Stress Support; Vitamin D3 for Bone & Heart Support; Vitamin C, Vitamin A & Zinc for Immune Support; B Vitamins for Energy Support (including Biotin)
EASILY DIGESTIBLE: New Chapter fermented multivitamins are gentle enough to take anytime—even on an empty stomach
CLEAN HERBAL BLENDS: 23 vitamins and minerals are expertly blended with superfood botanicals for men's needs, including Ginger, organic Turmeric & Saw Palmetto
Made with Certified Organic Vegetables & Herbs, Non-GMO Project Verified, 100% Vegetarian, Certified Kosher, Gluten Free, No Synthetic Fillers, No Animal Gelatin (added to some gummy vitamins)
New Chapter provide you an organic probiotic alternative to isolated or USP vitamins and minerals. All of our vitamins and minerals are cultured in organic soy using nature's most prized and studied probiotics, featuring Lactobacilli acidophilus, bifidus, rhamnosus, and Saccharomyces cerevisiae. New Chapter's Probiotic Nutrients deliver biotransformed vitamins and minerals in their finest cultured form, much in the same way as miso, kefir, tempeh, and yogurt.