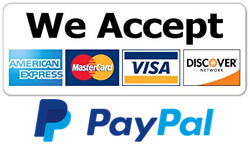 Payment Information:
We use a secure shopping cart to protect you, our customer! Online orders placed with us are transmitted through a secure server. We accept Visa, Master Card, American Express, Discover and Paypal. securely online. If you do not want to pay online for any reason, we can take your order and credit card information over the phone.
Contact Information
Better Organics Inc.
888.244.8948 Toll Free
gail@healthfoodemporium.com
8500 20th St. Unit 690724
Citrus Ridge, FL 32969
Free US Shipping Information:

Below are the shipping charges for addresses inside the United States:
US Order Merchandise above $75.00
FREE
US Order Merchandise totals between $0.00 - $75.00
$6.95
If there is anything I can do to help, please call us at 888-244-8948.
International Shipping
We are happy to ship to those international addresses who accept imported vitamins including; Australia, Canada, Cayman Islands, Costa Rica, Guam, Hong Kong, Ireland, Japan, Netherlands, New Zealand, Norway, Puerto Rico, Singapore, Scotland, Sweden, Switzerland, Taiwan, United Kingdom, United States, Virgin Islands (British), Virgin Islands (U.S.) and other countries, however we do have to charge shipping to non-US addresses.
Return Policy:
We are happy to return products for refund that are unsatisfactory due to damage during delivery, allergic reactions to the product, dissatisfaction with the product quality, or other reasons if you will call and talk to us. However, unless we made an error, we cannot refund shipping or tax charges. Thank you for your help. Please contact us if you have any problems at 888-244-8948.
---
† Statements on this website have not been evaluated by the Food and Drug Administration. These products are not intended to diagnose, treat, cure, or prevent any disease, but rather are dietary supplements intended solely for nutritional use.