New Chapter Prenatal Vitamins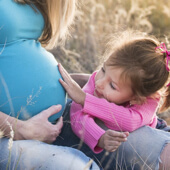 A daily regimen for the new chapter of your life. From preconception to birth to nursing, New Chapter products are there for you every step of the way, with gentle-on-your-stomach multivitamins formulated for energy and mood support, with nutrients for your baby's development.
---
† Statements on this website have not been evaluated by the Food and Drug Administration. These products are not intended to diagnose, treat, cure, or prevent any disease, but rather are dietary supplements intended solely for nutritional use.