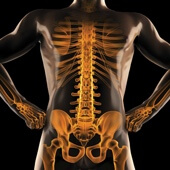 Research now shows that bone health is improved when you take both a good calcium supplement with all the right cofactors, and a good Omega 3 supplement. A good calcium supplement is made from plant sourced whole food red marine algae. This algae is harvested from pristine waters off the coast of Iceland, and is very high in immediately absorbable calcium that your body can use right away, from a plant source, not from chalk.
It is also important that your calcium supplement contains adequate amounts of D3 and K2 to direct the calcium to your bones. However, Omega 3 EPA and DHA have been shown to reduce bone loss by tuning down the inflammatory signalling that tiggers excessive bone loss. And ultimately osteoporosis! What's more, EPA and DHA increase the production of bone-building cells, inviting them in and giving them enough time to lay down new bone.
---
† Statements on this website have not been evaluated by the Food and Drug Administration. These products are not intended to diagnose, treat, cure, or prevent any disease, but rather are dietary supplements intended solely for nutritional use.