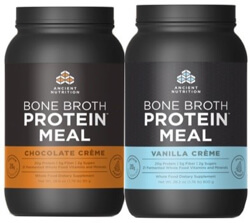 Bringing the Benefits of Bone Broth and putting it into a MEAL!
Two major obstacles to experiencing the benefits of bone broth is the time to make it at home and expense to buy it pre-packaged. Introducing Bone Broth Protein Meal a breakthrough in protein supplementation that delivers the benefits of bone broth in an easy to mix and convenient, on-the-go form, and adds 1 Organic Ancient Superfoods including:
TigerNut, Ashwagandha, Fermented Turmeric
Ginger and Cinnamon
Apple Cider Vinegar, Alfalfa and Oat Grass Juice
Acacia Fiber, Sprouted & Fermented Flax and Chia
21 Whole Food Vitamins and Minerals
Not only does Bone Broth Protein Meal pack 20g of gut-friendly and paleo-friendly protein per serving, it also provides Bone Broth Co-Factors such as collagen, glucosamine, chondroitin, hyaluronic acid and key electrolyte minerals—to support the health of your gut, joints, muscles, skin and healthy detoxification.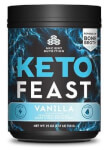 Retail Price
$79.49
Discount 21%
$16.53
Your Price
$62.96
Keto FEAST from Ancient Nutrition is a delicious shake and meal replacement powered by an impressive list of nutrient-dense foods often missing from our modern diets, including Bone Broth, Chia and Tiger Nuts, fermented herbs, mushrooms and spices, live probiotics, prebiotics and enzymes, nutrient-dense green foods and sprouts, coconut, coffee cherry extract, and apple cider vinegar.
---
† Statements on this website have not been evaluated by the Food and Drug Administration. These products are not intended to diagnose, treat, cure, or prevent any disease, but rather are dietary supplements intended solely for nutritional use.