Natural and Organic Essential Oils
Aromatherapy is a holistic therapy that uses pure essential oils to positively influence the mind and body and to enhance emotional and physical well-being. Essential oils are highly concentrated extracts from the aromatic part of the plant. They are wholly natural molecular substances which when diffused in the air are transmitted to the part of the brain that controls memory and emotional response. When used topically they are highly effective due to their ability to help stimulate the body's natural ability to heal.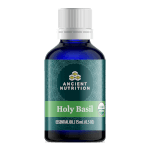 Retail Price
$37.95
Discount 15%
$5.69
Your Price
$32.26
Holy Basil Certified USDA Organic Essential Oil offers relief from respiratory discomfort, to soothe occasional fevers, to support a healthy microbial balance, and to support a healthy heart.
Retail Price
$24.95
Discount 15%
$3.74
Your Price
$21.21
Certified Organic Lemon Essential Oil is 100% pure and supports cleansing for the home and body. Plus, it is great for digestion and aromatherapy.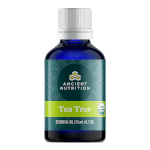 Retail Price
$24.95
Discount 15%
$3.74
Your Price
$21.21
Our certified organic 100% pure Tea Tree Essential Oil supports skin health, a balanced microbial environment† and offers a range of personal and household uses!
---
† Statements on this website have not been evaluated by the Food and Drug Administration. These products are not intended to diagnose, treat, cure, or prevent any disease, but rather are dietary supplements intended solely for nutritional use.