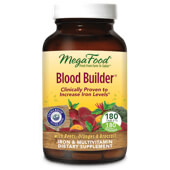 Blood Builder by MegaFood helps maintain healthy iron levels in the blood. Mega Food Blood Builder is a replenishing blend of 100% RAW Whole Food Iron and synergistic nutrients naturally combats fatigue and improves energy levels.
Iron is an essential mineral that is best supplied by FOOD. In Whole Foods, the mineral Iron is found with other beneficial factors intact, enhancing safety and utilization. Blood Builder is formulated with 100% FoodState nutrients. FoodState Nutrients are made with fresh and local foods. Crafted with our Slo-Food Process, they deliver the most authentic nourishment available, which we believe the body recognizes as 100% whole food.
---
† Statements on this website have not been evaluated by the Food and Drug Administration. These products are not intended to diagnose, treat, cure, or prevent any disease, but rather are dietary supplements intended solely for nutritional use.