Supercritical GI Tract/Cardio Tonic
Get to the root of traditional healing herbs with Ginger Force from New Chapter. For 100% herbal pain relief, joint support, digestion support, healthy inflammation response, and cardiovascular support, Ginger Force delivers two extracts of pure Ginger rhizome, in just one capsule daily. Our potent, whole-food approach to Ginger is Non-GMO Project Verified and 100% vegetarian & sugar-free.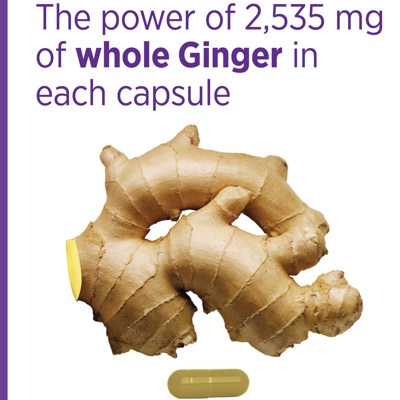 SUPPORTS DIGESTION: Ginger is widely used for healthy digestive support & GI tract health
JOINT PAIN SUPPLEMENT: A daily herbal alternative for pain relief, supports joint function and flexibility & a healthy inflammation response* (for occasional pain relief after exercise)
2-in-1 HEART BENEFITS: Our whole-food Ginger from India supports blood platelet health and cardiovascular function, as shown in preclinical lab studies
INSPIRED BY NATURE, VALIDATED BY SCIENCE: Each 100% vegetarian Ginger Force capsule is made from 2,535 mg of pure & potent Ginger rhizome
Non-GMO Project Verified, Supercritical Organic Ginger, 100% Vegetarian, Gluten Free, Dairy Free, Soy Free, No Synthetic Fillers, No Artificial Flavors or Colors, FDA & GMP compliant, 3rd-party tested
A Supercritical New Chapter in Ginger Potency
New Chapter's patent pending Gingerforce features the world's most potent full-spectrum ginger extract, at least 250 times the concentration of fresh ginger. This premier extract is Potency Assured to a minimum of 30% pungent compounds, and also contains at least 8% zingiberene, an important and active component of the essential oil of ginger. Because this is a full-spectrum extract, it contains hundreds of naturally occurring beneficial ingredients not similarly present in other extracts.
We pride ourselves as the world's leading expert, grower and supplier of organic ginger. Our founder and master herbalist, Paul Schulick, is an internationally recognized expert on the health benefits of ginger, and our company operates a 200+ acre organic ginger estate on the border of the Children's Eternal Rain Forest in Costa Rica.
Leading phytochemical databases maintained by the USDA and a major U.S. university identify multiple constituents in Gingerforce as modulating the 5-lipoxygenase enzyme. Recent scientific studies, including one published in the Proceedings of the National Academy of Sciences, suggest that 5-lipoxygenase modulation may serve an important role in supporting normal cell growth and activity in a number of the body's organ systems. Scientific research further supports Gingerforce as an effective prostaglandin modulator. Gingerforce promotes fat-digesting bile and starch-digesting saliva. The active ingredients of
Ginger
promote the growth of beneficial intestinal microorganisms, which are vital for intestinal health.