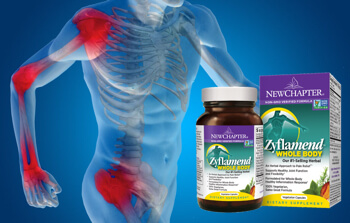 Zyflamend is an intelligent blend of full-spectrum herbal extracts containing hundreds of naturally occurring components. These whole, active phytonutrients work together to promote a healthy inflammation response.
Inflammation is a natural response process that affects every cell and organ in the body. Zyflamend promotes a healthy inflammation response that helps support joint health and many other body benefits. Zyflamend has been studied at leading research institutions and has been shown to benefit multiple areas of health.
The inflammation response is a natural healing process in the body - part of the immune system doing its job. There's an inflammation response we can feel, like in the neck, back or joints after exercise. There's also a "silent" inflammation response happening inside the body. We may not be able to feel it, but this inflammation can affect every organ and cell. That's why maintaining a healthy inflammation response is key for whole body health, including joint and cardiovascular health.
Zyflamend is the #1-selling, patented formula containing multiple full-spectrum herbs that support the whole body's healthy inflammation response. The formula represents a scientific breakthrough. Zyflamend Whole Body's potent herbal extracts are concentrated so a daily serving requires just two softgels - not up to 12 tablets like some conventional products. Because the inflammation response can cause oxidative stress in cells, Zyflamend delivers a host of powerful compounds with antioxidant properties. Our formula is backed by science: extensively researched and clinically tested. It's also backed by historical success - humans have used the herbs and spices in Zyflamend for thousands of years.