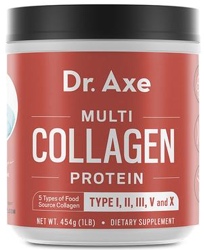 Dr. Axe Multi Collagen Protein Powder—Contains Collagen Type I, II, III, V and X from Four Food Sources (beef, chicken, fish and eggshell membrane):
Hydrolyzed Collagen Peptides from Grass-Fed Beef
Collagen from Chicken Bone Broth
Hydrolyzed Collagen Peptides from Wild Fish
Collagen from Eggshell Membrane
7 grams of Protein (per serving)
Skin, Gut, and Joint Support
Mixes Instantly
Odorless, Tasteless
Adds Collagen Boost to Any Meal
CONTAINS: Eggs, Fish
Contains No Added: milk, shellfish, tree nuts, wheat, peanuts, soy. Made on equipment that also processes milk, eggs, fish, tree nuts and soy.
Most of us don't get enough collagen in our diets, and collagen levels can start to drop as early as when a person's in their 20s. But there's a whole lot of life to live after our 20s.
If you're looking to boost your collagen intake, Dr. Axe Multi Collagen Protein powder could be just what you're looking for. Most collagens on the market provide only one source of collagen, but Dr. Axe Multi Collagen Protein provides the power of five collagen types from four different sources!
Dr. Axe Multi Collagen Protein includes hydrolyzed bovine collagen peptides, chicken bone broth collagen concentrate, hydrolyzed fish collagen peptides and eggshell membrane collagen, providing collagen Type I, II, III, V and X.
Why hydrolyzed collagen peptides? Hydrolyzed collagen—also known as collagen hydrolysate or collagen peptides—is collagen derived from bone, cartilage and connective tissues. The hydrolysis process results in small, intact amino acids which haven't been damaged and help to form and support collagen in the body.†
Odorless, tasteless and easy-to-mix Dr. Axe Multi Collagen Protein can be added to a wide variety of healthy foods and beverages, and can:
Promote healthy skin
Support healthy digestive function
Support healthy joints
---