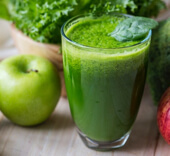 Whole Food Shake Mixes are formulated to be a meal replacement that satisfies hunger, is naturally filling and provides energy, all while providing the protein, fiber, vitamins and minerals that you would find in a healthy meal. These natural shake mixes provide the nutrition of a well-balanced, healthy meal in one delicious serving so you can eat healthy foods, while you are on the run.
I found the above video example of a green smoothie. This gal does a really great job talking about how and why to make a green smoothie, but she doesn't add any green food powder to her smoothie. I prefer, myself, to use the powder in addition to the rest, just to boost the nutrition and give me a broader range of vitamins in my green smoothie. I also tend to add some protein powder to my smoothie because my husband requires a lot of protein and I've got him drinking a smoothie so, why not make it a full meal?.
---
† Statements on this website have not been evaluated by the Food and Drug Administration. These products are not intended to diagnose, treat, cure, or prevent any disease, but rather are dietary supplements intended solely for nutritional use.