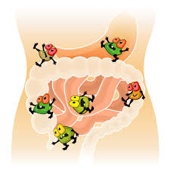 Probiotics are beneficial microflora that play a critical role in maintaining good health. Healthy human intestines contain billions of both good and potentially harmful microorganisms. The good bacteria in the intestines are considered to be an integral part of normal immune system support.
Probiotics are important because they can synthesize certain vitamins and short-chain fatty acids to support a healthy intestinal lining and bolster immunity.† When your intestinal lining is occupied by healthy beneficial flora, it deprives unwelcome microorganisms of both space and nutrients.
---
† Statements on this website have not been evaluated by the Food and Drug Administration. These products are not intended to diagnose, treat, cure, or prevent any disease, but rather are dietary supplements intended solely for nutritional use.