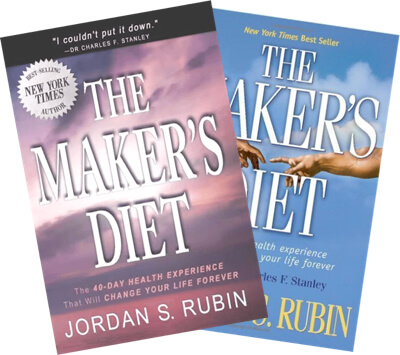 For Instructions and Explanation of the Maker's Diet Phases and Levels CLICK HERE
The Maker's Diet will empower your mind, body and spirit,
The Maker's Diet Helps you achieve and maintain your ideal weight,
The Makers Diet will boost your immune system,
The Makers Diet will Help you look and feel your best,
The Maker's Diet will optimize your digestion,
The Maker's Diet Improves your mood and attitude,
The Makers Diet will maximize your mental performance,
The Maker's Diet Stabilizes your blood sugar and insulin levels,
The Maker's Diet will reduce inflammation.
If you thought you were destined for a life filled with weight problems, low energy and ill health, think again! Nearly 65 percent of our population is overweight with 27 percent considered obese; virtually every disease is on the rise. There is no doubt that our current health crisis is directly related to our poor dietary and lifestyle choices; the incidents of cardiovascular disease, cancer, and diabetes have sky-rocketed as consumption of modern foods has increased, our environment has become increasingly polluted, and physical activity levels have decreased.
There is good news, however. Today's greatest weapon in the battle for good health is this: Get back to the historically correct and scientifically proven health program called The Maker's Diet. Written by the founder of Garden of Life, Jordan Rubin, The Makers Diet shares humanity's oldest, most successful health plan in a 40 day, easy-to-follow diet and lifestyle plan with over 100 delicious recipes. Going far beyond any other diet plan, The Maker's Diet focuses not only on the type and amount of foods one should eat, but also teaches the reader the true importance of food quality and proper preparation.
More about The Maker's Diet:
Other health topics in The Maker's Diet include the ultimate 40-day plan to healthy weight loss, a powerful detoxification program, an exercise plan that works for everyone, a system of advanced hygiene helps to reduce stress on the immune system, and a proven plan to help ensure emotional, mental, and spiritual health. The Maker's Diet comprehensive buyer's guide helps take the guesswork out of healthy shopping by listing foods, products, and services from over 250 leading health organizations. Read the stories of how seven ordinary people took their health into their own hands and fought back to regain a life they never dreamed they would have. There is even a chapter in The Makers Diet that lists 25 things many of us do every day in our quest for good health that can actually make us sick!
---
† Statements on this website have not been evaluated by the Food and Drug Administration. These products are not intended to diagnose, treat, cure, or prevent any disease, but rather are dietary supplements intended solely for nutritional use.